Self Dental Care Tips For Special Needs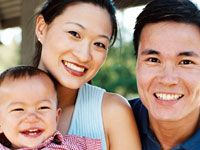 Maintaining good oral hygiene can be a challenge, especially if you have developed a health condition that makes brushing and flossing more difficult, or have been in an accident that created new limitations. Dentists want to help all dental patients keep their mouths healthy, and they offer these suggestions about performing oral hygiene and home dental care .
Brushing Tips
Problems in hands, wrists, arms, and shoulders can hinder a person's ability to brush, floss, and perform oral hygiene. While each situation is different, there are some suggestions that have been effective in making dental care easier:
Use a wide elastic band to attach the toothbrush to your hand for extra gripping power.
Attach a small rubber ball, a sponge, or a rubber grip to the toothbrush handle with strong tape. This enhances gripping power and is often useful when hand or arm movement is weakened or limited.
Use a longer wooden dowel, a ruler, or plastic rod to lengthen the toothbrush handle, wrapping it securely with strong tape. This longer length may help in more easily reaching your mouth.
Use an electric or sonic toothbrush.
Flossing Tips
If limitations make brushing harder, flossing may be an even bigger challenge. Depending on your limitations, try these techniques:
Use a piece of floss, about 18" long, and wind one end of floss around each finger instead of holding it. This will increase your grip and prevent the floss from dropping out of your fingers with each tooth you floss.
Hold the floss tightly and seesaw it back and forth between the teeth, instead of pushing the floss right through.
Tie the floss into a long circle instead of using one long piece, which may make it easier to hold and less likely to drop from your hands.
Try using a floss holder, available wherever oral hygiene products are sold.
By Danine M. Fresch, DDS
Toothache - Why Won't My Tooth Pain Go Away?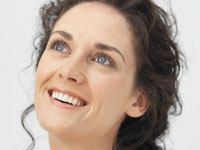 Technology in dentistry now offers attractive options in dental fillings for cavity restorations in dental care. Called composites, these new tooth-colored dental fillings are excellent choices for front teeth and other repairs that might be visible. Composites duplicate the natural appearance of a tooth in restoring decayed teeth or repairing a defect and giving you a more attractive mouth.
What Dental Care Material Is Used in the Composite Filling?
Dental fillings composites are made from a mixture of microscopic plastic and ceramic resin particles. Another type of tooth-colored dental fillings used in dental care are called a resin ionomer, which releases fluoride useful for preventing tooth decay.
Besides Their Cosmetic Value, What Other Benefits Do Composites Provide in dental care
The bonding process used in restoration provides strength to the tooth, making it more structurally sound. It also seals the tooth, decreasing the chance of sensitivity to hot and cold. Some composites made with materials releasing fluoride are ideal for treating root decay, a condition when gums recede, exposing tooth roots to more cavity-causing plaque. These fluoride-releasing materials also are useful dental fillings for decayed baby teeth.
What Is the Process for Dental Care Treatment?
Following removal of the decayed area, a mild acid solution is used to prepare the tooth's surface for bonding and dental fillings. A bonding agent is then brushed over the surface. Several layers of the composite are applied during the next dental care process. For a natural appearance, the dentist matches the color of the dental fillings composite to the tooth.
Then, it is chemically hardened or cured with a special light and finally polished for a natural-looking finishing touch.
How Durable Are these Dental Fillings?
In a five-year clinical study of dental care, some of the resin materials demonstrated 100% effectiveness for adhesion and retention. Like other types of dental fillings, they may require periodic replacement. While the material is very durable, they may not perform quite as long as silver fillings or amalgams for their resistance to the rigors of grinding and chewing.
Scheduling dental care on a regular basis is an important part of good oral hygiene. Your dentist will check your fillings each time to ensure their performance.
By Brian J. Gray, DDS, MAGD, FICO