Dental Emergencies and First Aid Procedures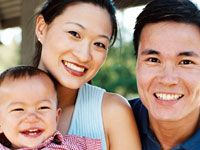 The following first aid procedures are important steps for handling dental emergencies or facial injuries. They provide temporary relief and help in their proper repair or healing. As with any injury, always follow up with personal care from your dentist or physician.
Bitten Tongue/Cut Lip
Clean gently with a cloth. Apply cold compresses to reduce swelling. If bleeding is severe, go to an emergency services provider. After bleeding has subsided, rinse with warm salt water.
Broken Jaw (Possible)
Don't move the jaw. Secure it in place by tying a scarf, necktie, or towel around the jaw and over the top of the head. Apply cold compresses to reduce any swelling. See your dentist or emergency services provider immediately.
Broken Tooth
Rinse the mouth with warm water. Try to remove any dirt, blood, or debris from the injured area using sterile gauze or a clean cloth and warm water. Apply cold compresses on the face next to the injured tooth to reduce swelling. See the dentist immediately. Place the broken piece in a small container of whole milk.
Knocked-Out Tooth
Annually, more than two million teeth are knocked out accidentally; more than 90% of them can be saved with proper treatment.
Holding the tooth from the crown (top part), rinse off the root. Don't scrub or remove any attached tissue fragments. Gently hold the tooth in its socket. (Young children may accidentally swallow; use your judgment.) If this isn't possible, place the tooth in a cup of cold whole milk. Avoid using low fat milk, powdered milk, or milk products like yogurt. Never put the tooth in mouthwash or alcohol. Avoid scrubbing the tooth or touching the root end. Get to the dentist immediately (within 30 minutes) and take the tooth!
Objects Trapped Between Teeth
Try gliding dental floss between teeth (dental tape is often useful in removing shredded dental floss.) Sometimes tying a small knot in the floss may help, too. Avoid using any sharp or pointed objects. See a dentist if object can't be removed.
Toothache
Toothaches can result from different causes. Rinse mouth with warm water. Remove any food trapped between teeth with dental floss. Avoid applying aspirin on the tooth or gum tissues. If a cavity is suspected, insert a small cotton ball or cotton tip soaked in oil of cloves (eugenol). Do not cover a cavity with cotton if there is facial swelling or pus. See a dentist as soon as possible.
Always consult with a dentist if you have questions regarding any dental problem.
By Brian J. Gray, DDS, MAGD, FICO
Healthy Eating For Good Oral Health Can Stop Tooth Decay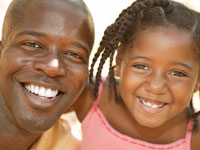 What you eat affects your health destiny. You can dramatically impact your dental health by eating a well-balanced, healthful diet. Research has shown that poor nutrition jeopardizes our oral health, which puts you at risk for a number of serious dental problems.
The Food Factor For Good Oral Health
Our food choices can make a big difference in two of the most common diseases today: tooth decay and gum disease. Certain foods, especially those containing sugar, are directly linked to increased levels of cavity-causing bacteria.
Tooth decay results when acids from the bacteria attack the teeth forming cavities. While diet doesn't directly cause gum disease, a condition affecting the supporting tissues of the teeth, researchers believe the disease is more rapid and severe when poor nutrition is a factor. Gum disease is a serious problem, since it can lead to tooth loss if untreated.
Diet and Dental Health
The American Dietetic Association and the National Institutes of Health recommend eating a well-balanced diet including plenty of the following:
fruits
vegetables
a good variety of breads and cereals
dairy products
fish
chicken
dried beans
peas
meat
Enjoying a variety of foods is the best way to get all the important nutrients needed for keeping healthy. Beware of fad diets that exclude entire food groups. This can cause nutritional deficiencies.
Snack Smart To Avoid Tooth Decay
Snacking is a favorite pastime, but certain snack choices promote tooth decay such as soft, sweet, sticky foods. Select nutritious snacks better for your teeth and general good health, especially colorful, juicy fresh fruits and crisp, crunchy vegetables. Choose your snacks based on any other dietary concerns, such as low cholesterol, low-fat, or low sodium diets.
If you snack on crackers, cookies, or chips, it's better if you eat them in combination with other foods, such as cheese with crackers, rather than alone. This is because these foods, when eaten alone, tend to produce more bacteria in the mouth leading to tooth decay. Remember, each time you snack, oral bacteria is activated. Drink plenty of water to rinse away some of the disease-causing bacteria. If possible, brush your teeth after snacking.
Select from the wide variety of foods for healthful eating -- that are good for you and your teeth and be sure to check-in with your dentist.
By Brian J. Gray, DDS, MAGD, FICO