Computerized Dental Radiography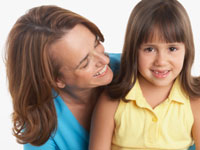 These days, computers are really changing the way we live and work. You've probably experienced their impact in your own home. And believe me, technology is also helping raise our dental practice to a new level of safety, accuracy, and comfort.
Keeping up with all these advances is a full-time occupation that's as important as my work at chairside. One of the most promising of these breakthroughs is an improvement on the oldest evaluation technology we have - dental x-rays.
For close to a century, dentists have used x-rays to detect cavities and damage invisible to the eye. We've long been aware of the drawbacks. Though x-ray radiation is slight, many patients find it a cause for concern. And reading the negative requires a skilled, professional eye-which means my patients can't see what I see.
That's why my office uses a Computed Dental Radiography System as an x-ray alternative. A computer enhances a "photo" of your teeth and shows it instantly on a screen. This new system requires 90% less radiation than the old film x-rays, and can magnify the image up to 300 times. It's as easy to read as a snapshot. When I discuss something I see in your mouth, you'll be able to view it right along with me.
This is an exciting time to be a dentist. We're re-thinking and refining virtually every aspect of our dental practice, and I wanted to pass a bit of it along to you.
Self Dental Care Tips For Special Needs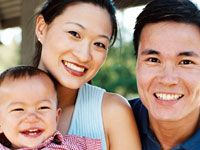 Maintaining good oral hygiene can be a challenge, especially if you have developed a health condition that makes brushing and flossing more difficult, or have been in an accident that created new limitations. Dentists want to help all dental patients keep their mouths healthy, and they offer these suggestions about performing oral hygiene and home dental care .
Brushing Tips
Problems in hands, wrists, arms, and shoulders can hinder a person's ability to brush, floss, and perform oral hygiene. While each situation is different, there are some suggestions that have been effective in making dental care easier:
Use a wide elastic band to attach the toothbrush to your hand for extra gripping power.
Attach a small rubber ball, a sponge, or a rubber grip to the toothbrush handle with strong tape. This enhances gripping power and is often useful when hand or arm movement is weakened or limited.
Use a longer wooden dowel, a ruler, or plastic rod to lengthen the toothbrush handle, wrapping it securely with strong tape. This longer length may help in more easily reaching your mouth.
Use an electric or sonic toothbrush.
Flossing Tips
If limitations make brushing harder, flossing may be an even bigger challenge. Depending on your limitations, try these techniques:
Use a piece of floss, about 18" long, and wind one end of floss around each finger instead of holding it. This will increase your grip and prevent the floss from dropping out of your fingers with each tooth you floss.
Hold the floss tightly and seesaw it back and forth between the teeth, instead of pushing the floss right through.
Tie the floss into a long circle instead of using one long piece, which may make it easier to hold and less likely to drop from your hands.
Try using a floss holder, available wherever oral hygiene products are sold.
By Danine M. Fresch, DDS