FAQs on Dentures, Seniors Dentistry and Woman's Oral Health Needs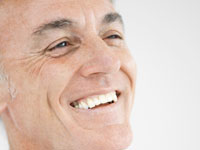 Q. How do you clean your dentures?
A. In cleaning your dentures you should first rinse away loose food particles thoroughly. Then moisten your toothbrush and apply denture cleanser. Brush every surface, scrubbing gently to avoid damage.
Q. Why do your teeth seem darker as you age?
A. Your teeth may seem darker because plaque can build up faster and in larger amounts as you age. Changes in dentin can cause your teeth to appear a little darker as well.
Q. Why does your mouth seem dry?
A. Dry mouth is a common problem among seniors. It is caused by certain medical disorders and is often a side effect of some medications.
Q. Are seniors more susceptible to gum disease?
A. Yes. The severity of gum disease may be increased due to ill-fitting dentures or bridges, poor diets, poor oral hygiene, other medical diseases, and even some medications.
Q. Why do seniors lose their sense of taste?
A. Seniors tend to lose their sense of taste because age decreases the sense of taste and smell. Certain diseases, medications and dentures can also contribute to the decrease of your sense of taste.
Q. Should seniors be worried about cavities?
A. Yes. The majorities of seniors have tooth-root decay and are more susceptible to cavities.
Q. Why should women be more careful with their oral health?
A. For many women, dental care depends on their different stages of life that are directly related to surges in sex hormone levels. Your dentist may request to see you more frequently during hormonal surges.
Q. How do oral contraceptives affect women's oral health?
Gingivitis may occur with long-term use of oral contraceptives because they contain estrogen or progesterone. Women who use oral contraceptives are two times as likely to develop dry sockets and require dental care more often.
Q. How does pregnancy affect oral health?
A. There is an increase in the amount of plaque on your teeth due to pregnancy because there is an increase in estrogen and progesterone.
Q. How does morning sickness affect oral health?
A. The acid in vomit causes tooth erosion. Women can neutralize the acid by using a baking soda and water paste and rubbing it on their teeth. Rinse the paste off after 30 seconds and then brush and floss.
Q. What is the likeliness of having tumors during pregnancy?
A. Women are at risk for developing pregnancy tumors that are benign growths that develop when swollen gums become irritated. The tumors usually shrink soon after the pregnancy is over.
Q. How does plaque build-up affect pregnant women?
A. If plaque is not removed it can cause gingivitis and women with periodontal disease may be at risk for pre-term, low-birth weight babies.
Q. What problems occur for girls experiencing puberty?
A. The surge in hormones that occurs during puberty may cause swollen gums, especially during menstruation. Herpes-type lesions and ulcers can also develop. They may also experience sensitive gums that react more to irritants.
Q. What are intraoral cameras?
A. An intraoral camera is a miniature video camera that the dentist places in the patient's mouth so that together they can view any dental problems that the patient is having. The image from the camera is enlarged and sent to a monitor for viewing.
Q. What is the purpose of intraoral cameras?
A. The purpose behind intraoral cameras is to allow the patient to see the specific area that needs treatment so that they are more likely to understand the dentist's recommendation and accept it.
Q. How can CD-ROM be beneficial in dentistry?
A. CD-ROM is beneficial in dentistry because patient education will be much simpler with information stored on CD-ROM. Procedures can be explained to patients in advance and post-operative instructions can be provided for them to take home.
How Malocclusion or Bad Bite Relates To Different Dental Problems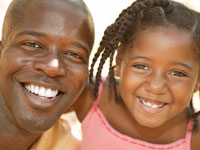 It is ironic that one of the most common dental disorders is also the most neglected, malocclusion, bad bite. The way the teeth fit together when the jaw closes and chews is of profound importance to the long-term health of your teeth.
If surfaces of the teeth interfere with how the jaw moves, the teeth can be worked loose or the enamel can be worn away this is know an malocclusion, bad bite. The muscles that move the jaw are very powerful and can do major damage to the teeth when the biting surfaces don't fit together properly.
The problem can be compounded if teeth interfere with functional muscle patterns, the jaw muscles will attempt to "erase" the part of the tooth that interferes by grinding against it all the more. This can lead to even more severe wear or it may crack off a cusp or split the tooth. Or it may loosen the tooth or cause it to move out of alignment. The excessive muscle activity often results in pain in the muscle itself. All of the jaw muscles can become sore including the temporal muscles that are the source of many so-called tension headaches.
Some excessive muscle activity may be caused by emotional stress. But with some special exceptions, damage done by stress induced grinding and clenching can be minimized to a manageable level by equalizing the biting surfaces that are in conflict with jaw movements.
The power of the jaw muscles may surprise you. Some people can exert over 900 pounds of compressive force with their jaw muscles so you can imagine how much damage such force can do when you close into a single tooth and then work it from side to side. The effect is very much like working a fence post loose as the bone around the root breaks down. If you can put your finger on any tooth in your mouth, and then squeezing your teeth together causes the tooth to move, you can be sure that it is just a matter of time before there will be a problem with that tooth.
Sometimes in malocclusion, bad bite the muscle forces that work the tooth sideways stimulates bone around the root to build up and become stronger. When that happens, the tooth actually bends in its socket and this creates a microscopic chipping away close to the gum line to form a deep groove in the tooth. This is called an abfraction. These deep grooves at the gum line are often mistaken for toothbrush abrasion, but scientists have shown us that the grooves are actually the results of bending of the tooth in its socket. These grooves can lead to much sensitivity in those teeth because the opening into the tooth exposes nerves that can be exquisitely sensitive. Correction of the bite to remove excessive lateral forces on the teeth in most instances either eliminates the sensitivity completely or reduces it to a much more acceptable level.
Patients should be aware that much confusion surrounds the importance of a harmonious bite, including many misconceptions that have been fostered by flawed research that has failed to properly relate the bite interferences to the position and condition of the temporomandibular joints. Knowledgeable clinicians, however, are very much aware of this relationship and can achieve excellent results in making both your teeth and your jaw muscles more comfortable by bringing your whole biting into harmony and avoiding malocclusion, bad bite.
By Peter E. Dawson, DDS