FAQs on Dental Implants, Wisdom Teeth and Sealants for Children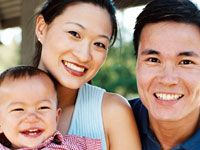 Q. How does one care for primary teeth?
A. As soon as the first tooth erupts, primary teeth may be cleaned with a clean, wet wash cloth or wet gauze. The gums should also be gently wiped. If a toothbrush is used, it should be an appropriate size.
Q. Where does decay on the primary teeth occur most often?
A. With inappropriate or prolonged use of the baby bottle, decay may occur on the upper front teeth (incisors). The second most-often occurring site are the upper primary molars, which are found furthest back in the mouth. If there is no spacing between the primary teeth, there is a much greater chance of decay between the primary molars. These teeth should be flossed as soon as they come in.
Q. Why are dental sealants beneficial for children?
A. Dental sealants are applied by your dentist as protective coatings for the chewing surface of permanent molars. They protect the teeth from decay. Read on for more information.
Q. What is a dental implant?
A. A dental implant is a permanent artificial tooth replacement.
Q. What is the procedure for receiving dental implants?
A. Dental implants are inserted surgically in two steps. The first step is to insert a "post" into or onto the jawbone. This post will then become the "anchor" for the artificial tooth that will be placed over the "post".
Q. How long is the procedure for dental implants?
A. Getting a dental implant is a two step process. Once the "post" is inserted into the jawbone, the patient will have between three and six months with a temporary restoration. During this period, the bone and gum area around the post will heal to create a strong and healthy bond.
Once this bond is complete, an additional set of smaller posts is attached to the original post and then the artificial tooth is secured to the posts. The entire procedure could take anywhere from three to ten months.
Q. Can I eat regularly while the implants are bonding?
A. While the "post" is bonding with your jaw and gums, your dentist will place a temporary artificial tooth on the post. During the bonding period, you will need to eat soft foods.
Q. Do implants require special care?
A. Yes and No. Dental implants need to be brushed, flossed and checked regularly by a dentist, just as you would do with your regular teeth. But dental implants don't need special brushes or pastes.
Q. Can you eat and chew normally with dental implants?
A. Yes. Consider that natural teeth can absorb up to approximately 540 lbs. per square inch of biting pressure and properly placed dental implants can withstand up to approximately 450 lbs. per square inch of the same pressure.
Q. How long should a dental implant last?
A. With proper placement, excellent home care, regular dental visits, and good overall health, dental implants should be permanent.
Q. What are wisdom teeth?
A. Wisdom teeth are the third molars.
Q. Why is it necessary to remove wisdom teeth?
A. It is necessary to remove wisdom teeth to avoid problems, such as an impacted tooth destroying the second molar.
Q. Why do wisdom teeth cause problems?
A. Wisdom teeth generate problems because the shape of the modern human mouth is too small to accommodate these teeth, and they become impacted or unable to come in or move into their proper place.
Q. What problems occur from impacted third molars?
A. Partially erupted wisdom teeth are breeding grounds for bacteria and germs that may cause infection. Cysts and tumors may grow on trapped wisdom teeth.
Q. How is a wisdom tooth removed?
A. Wisdom teeth are removed by surgery. The gum tissue over the tooth is removed, the connective tissue is stripped gently away from the tooth and bone, the tooth is removed, and the gum sutured.
Q. When are lasers used in dentistry?
A. Lasers are used in oral surgery, gum surgery, tooth whitening, cancer sore treatment, and the treatment of gums that have been diseased.
Dental Emergencies and First Aid Procedures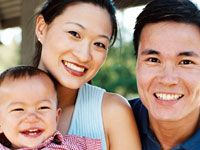 The following first aid procedures are important steps for handling dental emergencies or facial injuries. They provide temporary relief and help in their proper repair or healing. As with any injury, always follow up with personal care from your dentist or physician.
Bitten Tongue/Cut Lip
Clean gently with a cloth. Apply cold compresses to reduce swelling. If bleeding is severe, go to an emergency services provider. After bleeding has subsided, rinse with warm salt water.
Broken Jaw (Possible)
Don't move the jaw. Secure it in place by tying a scarf, necktie, or towel around the jaw and over the top of the head. Apply cold compresses to reduce any swelling. See your dentist or emergency services provider immediately.
Broken Tooth
Rinse the mouth with warm water. Try to remove any dirt, blood, or debris from the injured area using sterile gauze or a clean cloth and warm water. Apply cold compresses on the face next to the injured tooth to reduce swelling. See the dentist immediately. Place the broken piece in a small container of whole milk.
Knocked-Out Tooth
Annually, more than two million teeth are knocked out accidentally; more than 90% of them can be saved with proper treatment.
Holding the tooth from the crown (top part), rinse off the root. Don't scrub or remove any attached tissue fragments. Gently hold the tooth in its socket. (Young children may accidentally swallow; use your judgment.) If this isn't possible, place the tooth in a cup of cold whole milk. Avoid using low fat milk, powdered milk, or milk products like yogurt. Never put the tooth in mouthwash or alcohol. Avoid scrubbing the tooth or touching the root end. Get to the dentist immediately (within 30 minutes) and take the tooth!
Objects Trapped Between Teeth
Try gliding dental floss between teeth (dental tape is often useful in removing shredded dental floss.) Sometimes tying a small knot in the floss may help, too. Avoid using any sharp or pointed objects. See a dentist if object can't be removed.
Toothache
Toothaches can result from different causes. Rinse mouth with warm water. Remove any food trapped between teeth with dental floss. Avoid applying aspirin on the tooth or gum tissues. If a cavity is suspected, insert a small cotton ball or cotton tip soaked in oil of cloves (eugenol). Do not cover a cavity with cotton if there is facial swelling or pus. See a dentist as soon as possible.
Always consult with a dentist if you have questions regarding any dental problem.
By Brian J. Gray, DDS, MAGD, FICO